This website is now enabled for IPv6
With the massive growth in the number of devices connected to the internet the current system of IP addresses in not fit for purpose. To solve this problem IPv6 has been created to supersede IPv4.
K. E. Wilson & Co. are pleased to announce that their website is now fully enabled for IPv6 connections and we are happy to support the worldwide launch of IPv6.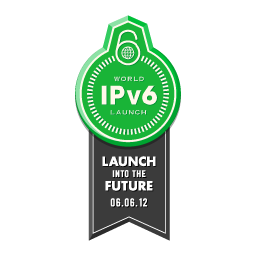 What is IPv6?
IPv6 is a new version of the internet protocol and will supersede IPv4.
Why do we need it?
IANA has already allocated their final blocks of IP addresses to regional internet registries. It is only a matter of time before these blocks are exhausted. Once these addresses are exhausted no new IPv4 addresses will be issued and IPv6 addresses will be issued instead.
How can I get involved?
If you own a website that is IPv6 enabled then join in with the world launch of IPv6.
Don't know if your website is IPv6 compatible, check here.
How do I know if my connection supports IPv6?
Support for IPv6 may be dependent on your ISP, your router (and other network equipment) and/or your computer. However you can test whether you can use IPv6 here.
How can I check your site uses IPv6?
Just click the button below to confirm we are IPv6 enabled.